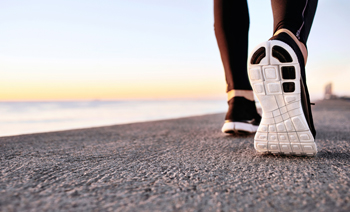 The movements for walking and running differ. Running is considered to be a good aerobic form of exercise, and it can help to strengthen muscles and bones. Running generally burns more calories than walking, and both activities can improve the heart. The foot strikes the ground differently when walking and running, and wearing the right shoes for the chosen activity is beneficial for the overall foot. Runners and walkers will land on their heels first, and people who walk will roll their foot forward to the toes. A proper running shoe consists of lightweight materials, a stable heel, and solid traction that is suitable for different types of terrain. A runner's nightmare is getting blisters, and they may be avoided by wearing shoes that fit correctly. A good walking shoe should have good shock absorption, feel lightweight, be flexible, and have adequate stability. When purchasing either kind of shoe, it is beneficial to wear the socks that will be worn during the activity, in addition to trying shoes on at the end of the day when the foot is at its largest. If you would like more information about the differences between walking and running shoes, please confer with a podiatrist.
For more information about walking shoes versus running shoes, consult with one of our podiatrists from Lansing Podiatry. Our doctor can measure your feet to determine what your needs are and help you find an appropriate pair of footwear.
Foot Health: The Differences between Walking & Running Shoes
There are great ways to stay in shape: running and walking are two great exercises to a healthy lifestyle. It is important to know that running shoes and walking shoes are not interchangeable. There is a key difference on how the feet hit the ground when someone is running or walking. This is why one should be aware that a shoe is designed differently for each activity.
You may be asking yourself what the real differences are between walking and running shoes and the answers may shock you.
Differences
Walking doesn't involve as much stress or impact on the feet as running does. However, this doesn't mean that you should be any less prepared. When you're walking, you land on your heels and have your foot roll forward. This rolling motion requires additional support to the feet.
Flexibility – Walking shoes are designed to have soft, flexible soles. This allows the walker to push off easily with each step.
If you have any questions, please feel free to contact our office located in East Lansing, MI . We offer the newest diagnostic and treatment technologies for all your foot care needs.
Read more about Differences between Walking and Running Shoes